Vienna Mission for Ukraine
We are a group of more than 200 volunteers from the international community living in Vienna (and abroad). We are committed to serving the refugees from Ukraine and displaced people in Ukraine. 
Our main objective is to transport as many people, as fast as possible, to safety, while finding sustainable accommodations and ensuring general welfare. 
We have no paid employees. Our volunteers include drivers, translators, project managers, doctors, psychological counselors, career advisors, technology specialists, and a variety of professionals, many with operational backgrounds.
Vienna Mission for Ukraine is a grassroots organization based in Vienna, Austria, and a non-profit association (gemeinnütziger Verein) under Austrian law. 
Every day we leverage our capabilities and resources to:
Operate vans and buses to transport people and supplies between Vienna and Ukraine

Provide support to refugees in Vienna on a case-by-case basis

find and move between accommodations

find employment

enroll in university

receive psychological support

find and access healthcare

Collaborate with and support our partner organizations in Vienna and Ukraine
In addition to our routine activities, we also:
Perform ad-hoc rescue operations in Ukraine of at-risk people and groups without the means to evacuate

Procure and transport urgently needed

medical supplies to Ukrainian hospitals

supplies to refugee shelters, aid distribution centers, orphanages, elderly homes, etc.

Respond to reports concerning refugee safety and welfare in and around Vienna
Transport and Supply Programs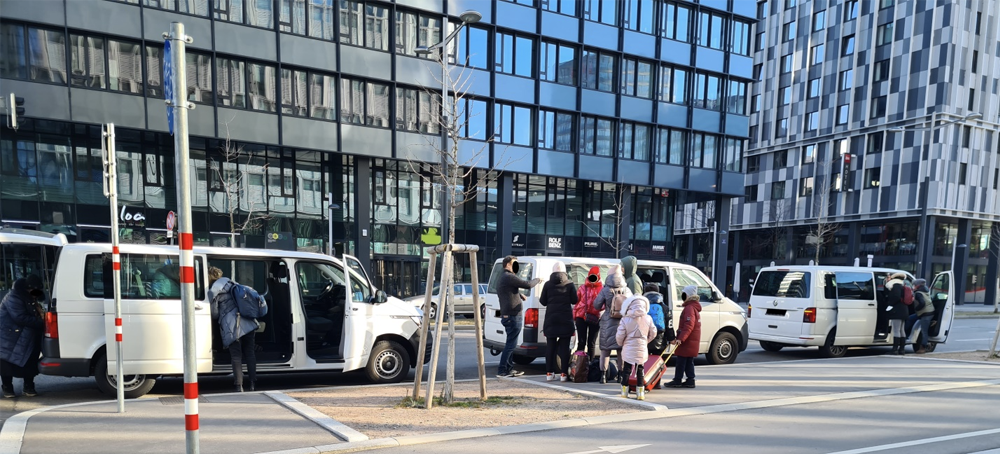 Van Program
Passenger and cargo vans are routinely used to transport supplies and passengers. Currently, vans are used to transport medical supplies to Ukrainian hospitals, general supplies around Vienna, and to move refugees and their households between accommodations in and around Vienna.

From 3 March to 23 April, VM4U passenger vans transported supplies from Vienna to the Ukrainian border and transported refuges from the refugee centers on the Ukrainian border to Vienna or elsewhere. During the refugee surge prior to 23 April, the van program transported 188 people to safety and 57 tons of supplies to Ukrainian border.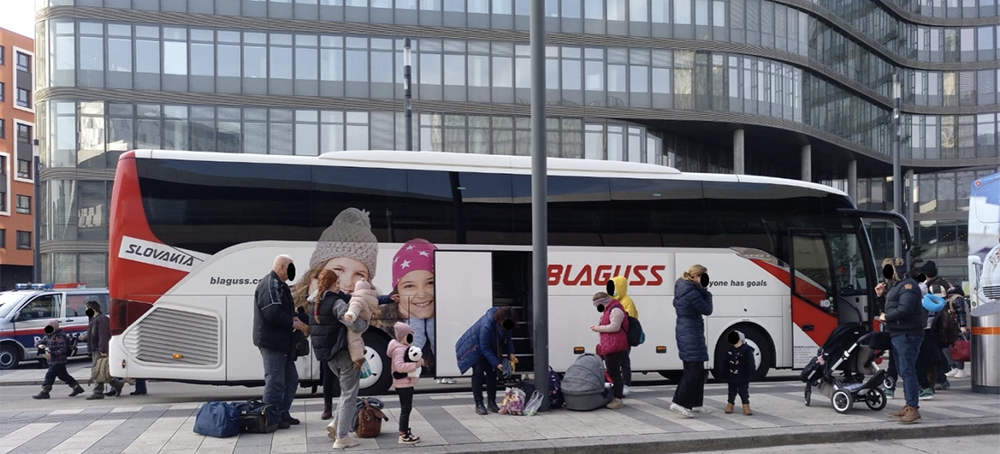 Bus Program
Passenger buses are periodically used to transport refugees, typically as part of rescue or repatriation projects. Busing operations include onboard Ukrainian speaking volunteers, logistical coordination, human trafficking safeguards procedures, and onboard medical staff.

From March 18 to 24, a chartered bus operated in a continuous circuit between the Refugee Centers on the Polish-Ukrainian border and Vienna, Austria. The route included the Przemyśl and Korczowa Refugee Centers in Poland, Ukraine Arrival Center in Vienna, and the main train stations in Vienna, Bratislava, and Brno. The bus ran for 1 week and transported 204 passengers to safety.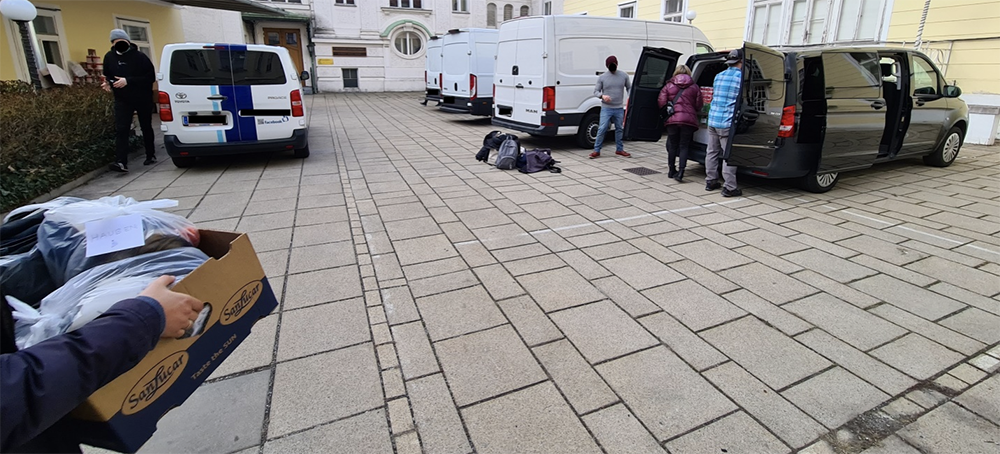 Command Center Program
VM4U operates a command center which provides 24-hour support of field operations, including language support and asset monitoring, which have played a critical role in coordination to medical emergencies, mechanical issues, and routine logistical coordination.
Human Trafficking Safeguards Program
VM4U works with experts to implement human trafficking safeguards procedure and ensure the safety of the refugees VM4U comes in contact with.
Medical Supply Program
VM4U project managers work with medical doctors to support procurement and transportation of medical supplies. The expenses of medical supplies are covered by private donors.
General Supply Program
VM4U project managers work with partner organizations to identity urgent needs at facilities in Ukraine and the EU (e.g. orphanages, hospitals, retirement homes, refugee centers, etc.), raise supplies, and transport supplies to where they are urgently needed. Most supplies are donated while the expenses of some urgent supplies are covered by VM4U donations.
Accommodations Program
Over 60 VM4U host families have opened their homes to refugees, providing both short and long term accommodations. All host families go through a vetting process before being matched with refugee families.
Employment Program
Specialized volunteers are available to assist refugees in finding employment in Vienna and elsewhere.
Intergration Program
The goal of this program is to help refugees independently function in Austrian society. Specialized volunteers work to facilitate refugees with learning German, finding employment, attending Austrian schools, and re-entering athletics, arts, music, and special needs programs. 
Medical Support Program 
Ukrainian and Russian speaking doctors who are familiar with the Austrian medical system are available to assist refugees with finding doctors and make appointments. Translators are available to attend medical appointments and personally assist refugees to navigate the Austrian medical system. 
Furnishings Program 
In collaboration with our partners organizations The Feel Good Store, Domivka, Österreich Hilft Ukraine, and First Aid First Hand volunteers collect and distribute donated furniture and appliances to refugees. 
University Education Program
Specialized volunteers are available to assist refugees in finding and applying to universities in Vienna and elsewhere.
Football Program
In collaboration with our partner organization Domivka, football training sessions for children ages 6-11 are led by Ukrainian coaches once per week. 
Music Program
The program's goal is to return refugee children to music training. In collaboration with our partner organization Domivka, a specialized volunteer leverages the VM4U network and resources to answer this need. 
German Program
The program's goal is to reduce the barriers for refugees who want to learn German. These barriers include high German course costs and childcare. 
Psychological Support Program
Ukrainian and Russian speaking psychologists and psychotherapists, many who are refugees themselves, provide free support to refugees as well as advise to VM4U management and VM4U host families.
Refugee Welfare Program
Dedicated staff are available to support refugees with any issues they are facing. This ranges from neighborly advice to in field support during medical emergencies.
Helpline Program
A helpline phone number is provided to refugees which VM4U comes in contact with. The helpline is available 24 hours a day and refugees can ensure they are fully supported by VM4U at all times.
Donate through Bank Transfer (IBAN)
Vienna Mission for Ukraine (VMFU)
IBAN: AT49 2011 1845 7787 8000
BIC: GIBAATWWXXX
Please help us to buy basics for women and children:
Add an item to your amazon cart
Go to checkout
Choose Vienna Mission for Ukraine as a shipping address